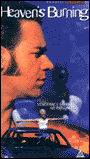 When Russell Met Robert
www.cinefile.com


Heaven's Burning re-unites Russell, Crowe and Robert
Mammone on screen after seven years, reports ANDREW
L. URBAN

I first met Russell Crowe on the set of The Crossing, out
in a small bush town, back in 1990. The same day that I
met Robert Mammone, one of his co-stars. It was the
first role in a feature film for both young men, and they've
stayed friends ever since. Now, for the first time since
then, they are together again on screen, as friends who
fall out, when Colin (Crowe) accidentally kills Mahood's
(Mammone) brother, in Heaven's Burning.


Crowe's career has expanded with US films, notably LA
Confidential, while Mammone's work has expanded into
television, with roles in a range of dramas from GP to
The Flying Doctors and Rafferty's Rules, and the series
produced by Bryan Brown for the 7 Network last year
(1996/97), Twisted Tales.

Both men play vastly different roles in Heaven's Burning:
Crow's Colin is a decent but aimless lad who gets
involved, rather reluctantly, in an armed hold up,
organised by his friend, Mahood, the son of a tough
Afghan ex-soldier. When the robbery goes wrong, the
small time gang grab the nearest customer as hostage,
Midori (Youki Kudoh), a Japanese tourist who is in the
midst of running away from her brand new husband.

But conflicts within the gang lead to a confrontation which
ends in Colin shooting Mahood's brother dead. Faced
with the family's fury, he flees, with Midori in tow.

The ensuing chase forces Colin and Midori to change
from who and what they were, into fugitives not only from
justice but potentially brutal vengeance. And a jilted
Japanese husband now enraged by being dumped.



Writer Louis Nowra, who has a wealth of theatre and film
credits to his name, has written what director Craig Lahiff
calls a modern day Tristan and Isolde. Lahiff sees Colin
and Midori as lost souls, fated to find each other.
Producer Helen Leake also sees a romantic parallel, with
Romeo and Juliet, "in a very unexpected and sometimes
violent way."

Producer Al Clark (who produced Priscilla), feels there is
a mix of genres at work: "It's a road movie, yet it veers
from being a traditional film of that genre. It's a thriller that
doesn't feel an obligation to continually thrill, and it's a
touching film about the way people can collide at a
moment in their respective lives."

Clark, incidentally, was the producer of The Crossing.



Youki Kudoh, a major star in Japan, spent several days
at this year's Cannes film festival, where the film was
launched for international buyers. She is best known in
the West for her role in Jim Jarmusch's Mystery Train
(1989), but she has since made three more feature films
and also released a number of albums in her blossoming
career as a singer.

A bright, effervescent young woman, Kudoh was a
welcome guest at several parties at Cannes, hosted by
the film's sales agent, Beyond Films. At 26, she has
crammed other interests into her life besides showbiz,
including SCUBA diving (she has an advanced licence as
well as an instructor's licence), skiing, aromatherapy,
inline skating and golf.

In case anyone needs to know, her foot size is 23 cms,
and her height is 153 cms. You never know when info like
that may come in handy.


More coming soon...