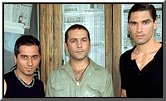 I'm so grateful to share my admiration of this talented actor with you, other fans. But I'd love to hear from you too!

On this page, I'll share some of the comments I've received in my Guestbook and via e-mail. I will always respond to comments and give full credit so please get in touch!
Kathleen of Seattle says: "Keep it going - this is terrific"! She also expressed that she would like to see more photos, and that's just what we are planning on adding to very soon.

Courtney & Nicole of Texas met Robert whilst he was attending the TOFOG Austin concerts. Their experience will be posted here very soon. They told me he is a lovely person. Like we didn't know :)

Stephanie of California said: "I love the layout and I think any Robert Mammone fan will be quite pleased that this page is here, thanks to you! It looks great! Keep up the excellent work".

Tammy of the Net said: "I'm so glad someone has set up a webpage for such a talented actor. I have been a fan of Mr. Mammone's since I first saw The Crossing a few years ago".

We are glad to oblige!

Janice of California said: "I happened to catch The Crossing this morning and discovered someone I could not take my eyes off of...well, you already know who that is. It is amazing how much beauty and talent comes from Austrailia! I hope to see more of him soon! Thanks for this site".

A visitor to the site said: "Saw Mammone on tv in The Crossing. He should be in Hollywood films as a leading man". We agree!

David of the USA said that he met Robert at an airport recently. He writes to Robert saying: "Our family enjoyed reviewing your movies and accomplishments, please accept our congratulations. We will definitely seek out your films including The Crossing and a few others".